Grunge Quotes, more than just the angsty lines of a 90s rock ballad, encapsulate a generation's outlook on life, love, and everything in between. The raw emotion and genuine honesty they convey often resonate with readers, making them an excellent tool for capturing attention in the vast digital landscape. As the digital era progresses, the importance of authenticity in content cannot be overstated. Tapping into these sentiments through well-crafted writing can bridge the gap between mere words and genuine human connection, revealing the power of timeless sentiments in the modern world.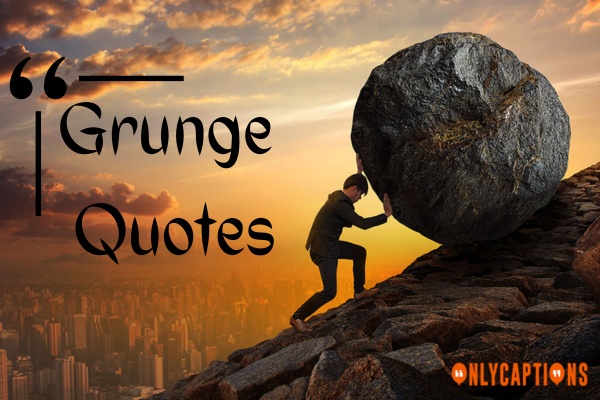 Grunge Quotes (2023)
Grunge, the music and cultural movement of the 1990s, birthed a unique language of raw emotion and existential musings. Here are quotes that encapsulate its unfiltered spirit.
"It's better to burn out than to fade away." – Kurt Cobain
"I feel stupid and contagious, here we are now, entertain us." – Nirvana
"The only thing that means a thing is what we feel, not what we're going to be." – Pearl Jam
"I'm not like them, but I can pretend." – Nirvana
"Every day is a new day, and you'll never be able to find happiness if you don't move on." – Carrie Underwood
"Keep on dreaming boy, 'cause when you stop dreaming it's time to die." – Shannon Hoon
"Times are gone for honest men." – Chris Cornell
"I think of myself as an intelligent, sensitive human being with the soul of a clown." – Jim Morrison
"I don't mind the sun sometimes, the images it shows." – Butthole Surfers
"They swallow their daggers by turning their tricks." – Alice in Chains
"Drifting body, it's sole desertion; flying, not yet quite the notion." – Soundgarden
"Saw things so much clearer, once you were in my rearview mirror." – Pearl Jam
"Would you like to hear my voice sprinkled with emotion?" – Soundgarden
"We can go on together with suspicious minds." – Elvis Presley (covered in grunge style by many artists)
"I'm the man in the box, buried in my pit." – Alice in Chains
"The day is my enemy, the night my friend." – The Prodigy
"Find your manners lost in the pages of a book." – Chris Cornell
"Do you wanna hear me roar, I've never done this before?" – Soundgarden
"And if you save yourself, you will make him happy." – Nirvana
"Behind every mask there is a face, and behind that a story." – Marty Rubin
"Lifeless dead, that unclean bed till or when her hunger's fed." – Mad Season
"I could either drown, or pull off my skin and swim to shore." – Fiona Apple
"Memories fade, but they're never lost." – The Smashing Pumpkins
"Time to take her home, her dizzy head is conscience laden." – Stone Temple Pilots
"All in all is all we are." – Nirvana
"Say hello to heaven, heaven, heaven." – Temple of the Dog
"I'm the voice inside your head you refuse to hear." – Foo Fighters
"I'm a ghost of a girl that I want to be most." – Sixpence None the Richer
"Can't change the wind, can change the weather, I can't change me." – Rob Zombie
"My pain is self-chosen, at least I believe it to be." – Mad Season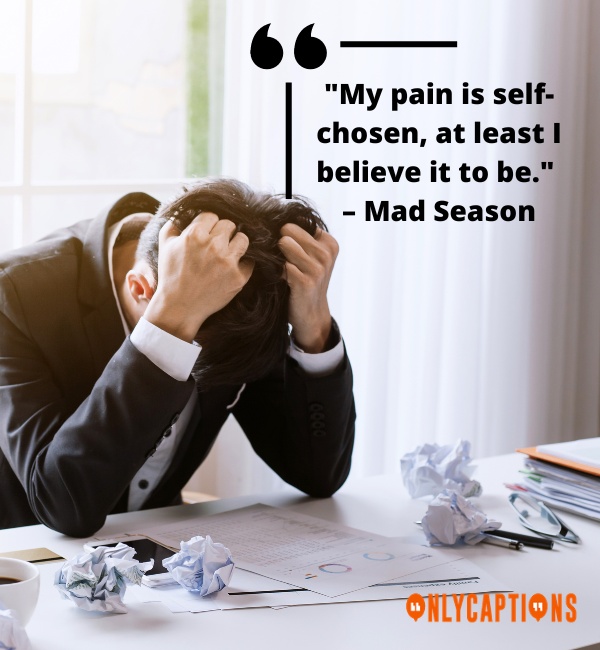 "Broken face and broken hands, I'm a broken man." – Stone Temple Pilots
"Innocence is what I've got, it'll take true love to hit the spot." – Red Hot Chili Peppers
"I love myself better than you, I know it's wrong, but what should I do?" – Nirvana
"Fear is the lock, and laughter the key to your heart." – Crosby, Stills & Nash
"Your thoughts and words are powerful things, so is the change that imagination brings." – Alice in Chains
"No one sings like you anymore." – Chris Cornell
"I am smelling like the rose that somebody gave me on my birthday deathbed." – Stone Temple Pilots
"Everyone I know has got a reason to say, put the past away." – Third Eye Blind
"You can't be neutral on a moving train." – Howard Zinn
"Don't let the world bring you down, not everyone here is that messed up and cold." – Incubus
"Black hole sun, won't you come and wash away the rain?" – Soundgarden
"Let's all get something real, we all get a lie." – Silverchair
"The finest day I ever had was when tomorrow never came." – Kurt Cobain
"Life is ours, we live it our way." – Metallica
"Hate your enemies, save your friends, find your place, speak the truth." – Nirvana
"I was lost, but now I'm found, the line was crossed, had a voice, had a sound." – Foo Fighters
"Every new beginning comes from some other beginning's end." – Semisonic
"Sometimes is seen a strange spot in the sky, a human being that was given to fly." – Pearl Jam
"Reality is a ride on the bus." – Adam Duritz
"Blame it on my ADD, baby." – AWOLNATION
"Feeling like a freak on a leash, you wanna see the light." – Korn
"I seem to look away, wounds in the mirror waved." – Soundgarden
"Say it ain't so, your drug is a heartbreaker." – Weezer
"When I'm feeling tired, she pushes food through the door." – Blur
"Change, everything you are and everything you were." – Muse
"Outshined, outshined, outshined, outshined." – Soundgarden
"There's a world outside every darkened door where blues won't haunt you anymore." – Tom Petty
"My shadow's the only one that walks beside me." – Green Day
"Can't repeat the past? Why of course you can!" – The Killers
"I want to peel the skin from your face before the real you lays to waste." – Silverchair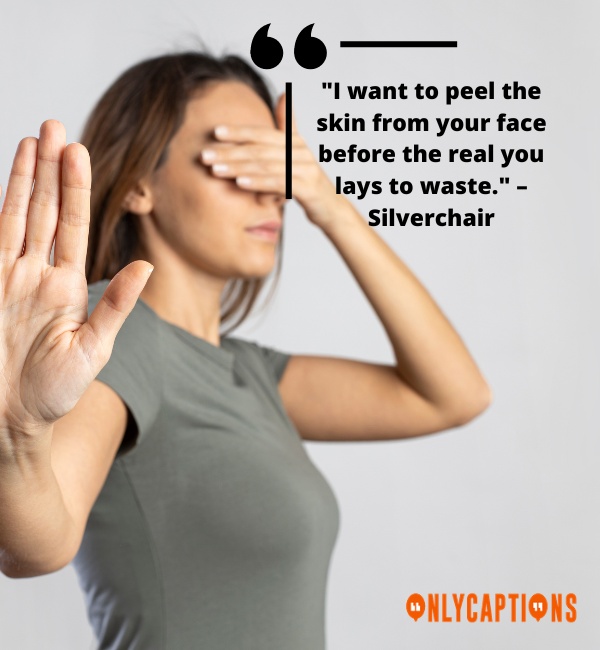 "Eyes, no eyes. There's no difference, every lie is the same." – Alice in Chains
"With eyes so dilated, I've become your pupil." – Tool
"Tomorrow holds such better days." – Blink-182
"Just 'cause you feel it, doesn't mean it's there." – Radiohead
"Come doused in mud, soaked in bleach, as I want you to be." – Nirvana
"Even flow, thoughts arrive like butterflies." – Pearl Jam
"With your feet in the air and your head on the ground, try this trick and spin it." – Pixies
"I've waited here for you, everlong." – Foo Fighters
"I am still alive, and until I'm dead, I will have something to say." – Eddie Vedder
"Dreaming of the person you want to be is wasting the person you already are." – Kurt Cobain
"Alive in the superunknown." – Soundgarden
"It's hard to believe that there's nobody out there, it's hard to believe that I'm all alone." – Blink-182
"There is no pain, you are receding." – Pink Floyd
"Cut myself on angel hair and baby's breath." – Nirvana
"Stone by stone, flesh by flesh." – Alice in Chains
"Hold my hand, want you to hold my hand." – Hootie & the Blowfish
"Rising up, back on the street, did my time, took my chances." – Survivor
"There's something in the way, mmm." – Nirvana
"It's my own desire, it's my own remorse." – Depeche Mode
"And I feel, and I feel, when the dogs begin to smell her." – Alice in Chains
"The world is a vampire, sent to drain." – The Smashing Pumpkins
"I will choose a path that's clear, I will choose freewill." – Rush
"Disarm you with a smile, and cut you like you want me to." – The Smashing Pumpkins
"Like a stone, I'll wait for you there, alone." – Audioslave
"The more you see, the less you know." – U2
"Mother, tell your children not to walk my way." – Danzig
"A mulatto, an albino, a mosquito, my libido." – Nirvana
"I know someday you'll have a beautiful life, I know you'll be a star in somebody else's sky." – Pearl Jam
"I've become so numb, I can't feel you there." – Linkin Park
"Don't dream it's over, they come, they come." – Crowded House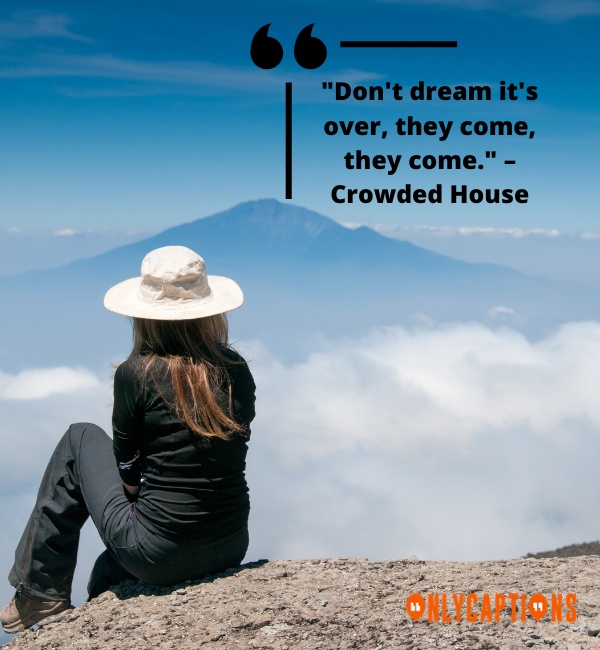 "It's times like these you learn to live again." – Foo Fighters
"No alarms and no surprises, please." – Radiohead
"Wish you were here, just two lost souls swimming in a fishbowl." – Pink Floyd
"Run and tell all of the angels, this could take all night." – Foo Fighters
"Heaven beside you, hell within." – Alice in Chains
"When you were young, and your heart was an open book." – Guns N' Roses
"I am the highway, in front of your road." – Audioslave
"And in the end, the love you take is equal to the love you make." – The Beatles
"Breathing is the hardest thing to do, with all I've said and all that's dead for you." – Stone Temple Pilots
"Stay with me, let's just breathe." – Pearl Jam
Grunge quotes, with their raw emotion and unvarnished truths, offer more than mere words from a bygone era. They serve as a powerful reminder of the grunge movement's legacy and its undying influence on generations. These lines, some haunting and some hopeful, continue to resonate, ensuring the spirit of grunge lives on in the hearts of those who remember and those newly introduced to its profound sentiments.