Life's most profound moments often come wrapped in the bittersweet. They remind us that joy and sorrow are but two sides of the same coin, intricately intertwined in the dance of human experience. The beauty of literature and art lies in its ability to capture these complexities, giving birth to poignant "Quotes About Bittersweet" that resonate deeply within our souls.
Such quotes hold a mirror to our emotions, reflecting our innermost sentiments and helping us navigate the myriad shades of love, loss, happiness, and heartbreak.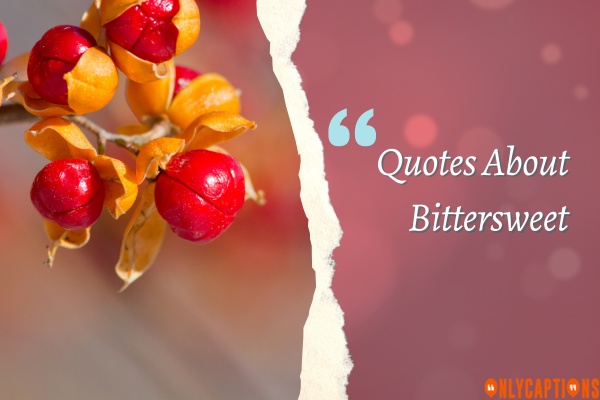 Quotes About Bittersweet (2023)
The realm of bittersweet is vast, encapsulating the intricate dance between joy and sorrow, love and loss. Here, we've compiled a diverse collection of quotes that delve deep into the heart of this paradoxical emotion, offering solace, insight, and a touch of poetic wisdom.
"The sweetest songs are those that tell of saddest thought." – Percy Bysshe Shelley
"Life is short, and it's up to you to make it sweet." – Sarah Louise Delany
"Tears come from the heart and not from the brain." – Leonardo da Vinci
"The pain of parting is nothing to the joy of meeting again." – Charles Dickens
"Bittersweet is the idea that in all things there is both something broken and something beautiful." – Unknown
"There is a certain relief in change, even though it be from bad to worse!" – Washington Irving
"The brightest stars are born of the most chaotic explosions." – Anonymous
"Life can only be understood backwards; but it must be lived forwards." – Søren Kierkegaard
"There are two tragedies in life. One is to lose your heart's desire; the other is to gain it." – George Bernard Shaw
"Every sweet has its sour; every evil its good." – Ralph Waldo Emerson
"A happy memory is a hiding place for unforgotten sorrows." – Robert Brault
"Growth in love comes from a place of absence, where the imagination is left to it's own devices and creates you to be much more than reality would ever allow." – Jamie Weise
"You can't appreciate the good days without the bad ones." – Unknown
"Nothing is more beautiful than the loveliness of the woods before sunrise." – George Washington Carver
"In the midst of winter, I found there was, within me, an invincible summer." – Albert Camus
"Part of me aches at the thought of her being so close yet so untouchable." – Nicholas Sparks
"Without pain, how could we know joy?" – John Green
"When you are joyous, look deep into your heart and you shall find it is only that which has given you sorrow that is giving you joy." – Khalil Gibran
"It's a bittersweet symphony, this life." – The Verve
"The beautiful journey of today can only begin when we learn to let go of yesterday." – Steve Maraboli
"The two hardest tests on the spiritual road are the patience to wait for the right moment and the courage not to be disappointed with what we encounter." – Paulo Coelho
"Sweet is true love that is given in vain, and sweet is death that takes away pain." – Alfred Lord Tennyson
"All endings are also beginnings. We just don't know it at the time." – Mitch Albom
"Love is an endless act of forgiveness. Forgiveness is the key to action and freedom." – Maya Angelou
"The closer to the light you are, the bigger your shadow becomes." – Kingdom Hearts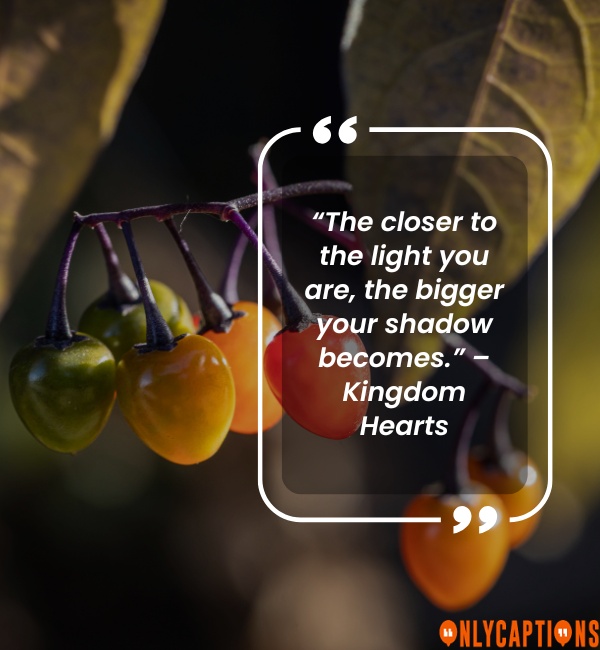 "We are more often frightened than hurt; and we suffer more from imagination than from reality." – Seneca
"The heart was made to be broken." – Oscar Wilde
"Joy wouldn't feel so good, if it wasn't for pain." – 50 Cent
"With every tear came redemption and my torturers became my remedy." – Lauryn Hill
"To hurt is as human as to breathe." – J.K. Rowling
"The darkest hour has only sixty minutes." – Morris Mandel
"Bittersweet memories that is all I am taking with me." – Whitney Houston
"Sorrow is knowledge, those that know the most must mourn the deepest, the tree of knowledge is not the tree of life." – Lord Byron
"In life, one has a choice to take one of two paths: to wait for some special day--or to celebrate each special day." – Rasheed Ogunlaru
"Behind every sweet smile, there is a bitter sadness that no one can ever see and feel." – Tupac Shakur
"The saddest thing about love is that not only the love cannot last forever, but even the heartbreak is soon forgotten." – William Faulkner
"Our sweetest songs are those of saddest thought." – John Keats
"What we remember from childhood we remember forever - permanent ghosts, stamped, inked, imprinted, eternally seen." – Cynthia Ozick
"Bittersweet is the practice of believing that we really do need both the bitter and the sweet, and that a life of nothing but sweetness rots both your teeth and your soul." – Shauna Niequist
"It's amazing how someone can break your heart and you can still love them with all the little pieces." – Ella Harper
"Grief can be the garden of compassion." – Rumi
"For every joy that passes, something beautiful remains." – Unknown
"From the bitterness of disease man learns the sweetness of health." – Catalan Proverb
"The word 'happy' would lose its meaning if it were not balanced by sadness." – Carl Jung
"One day, in retrospect, the years of struggle will strike you as the most beautiful." – Sigmund Freud
"The walls we build around us to keep out the sadness also keep out the joy." – Jim Rohn
"Every man has his secret sorrows which the world knows not; and often times we call a man cold when he is only sad." – Henry Wadsworth Longfellow
"It's the sweetest sting of love, the bittersweet taste left hanging on your lips." – Jessica Katoff
"Remember me with smiles and laughter, for that is how I will remember you all. If you can only remember me with tears, then don't remember me at all." – Laura Ingalls Wilder
"From my rotting body, flowers shall grow and I am in them, and that is eternity." – Edvard Munch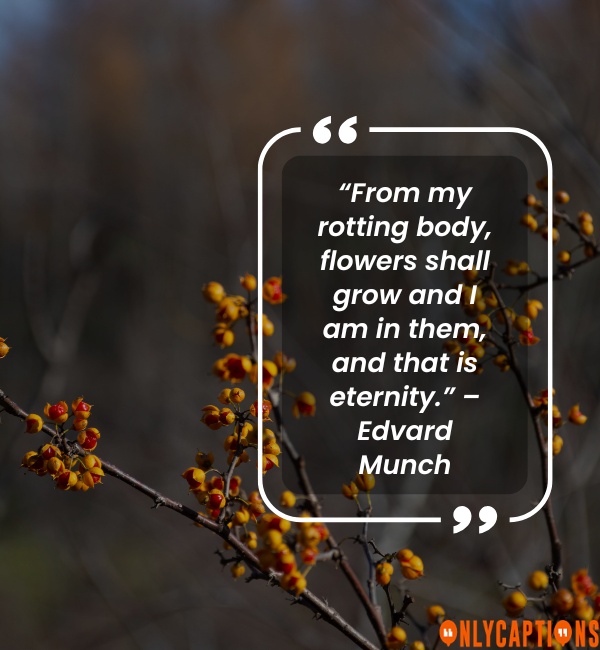 "Bittersweet. I like that word. We are all of us both light and dark, do you not find it so, Miss Tremaine?" – Libba Bray
"Every ending is a new beginning." – Marianne Williamson
"The cure for pain is in the pain." – Rumi
"In the middle of a difficulty lies opportunity." – Albert Einstein
"Life is in itself a bittersweet potion; it contains as much happiness as sorrow." – Unknown
"Perhaps they are not stars, but rather openings in heaven where the love of our lost ones pours through and shines down upon us to let us know they are happy." – Eskimo Proverb
"Sometimes it's better to be kind than to be right. We do not need an intelligent mind that speaks, but a patient heart that listens." – Unknown
"There's a fine line between the laughter and pain, they're two friends but one's always running away." – Ben Harper
"To live in hearts we leave behind is not to die." – Thomas Campbell
"With all sadness, there's something to be learned in every trial." – Unknown
"Tears are the silent language of grief." – Voltaire
"Grief is the price we pay for love." – Queen Elizabeth II
"In our lives, we have two or three opportunities to be a hero, but almost every day, we have the opportunity not to be a coward." – Spanish Proverb
"Even the darkest night will end and the sun will rise." – Victor Hugo
"Bitterness and sweetness, both at once: the final taste of any deep relationship." – Julian Barnes
"The pearl is the oyster's autobiography." – Federico Fellini
"The longer and more carefully we look at a funny story, the sadder it becomes." – Nikolai Gogol
"A thing of beauty is a joy forever." – John Keats
"Grief changes shape, but it never ends." – Keanu Reeves
"Sweetness deprived of its opposite is empty." – Jocelyn Soriano
"The saddest thing about love, Joe, is that not only the love cannot last forever, but even the heartbreak is soon forgotten." – William Faulkner
"Love is never lost. If not reciprocated, it will flow back and soften and purify the heart." – Washington Irving
"To live without you is death to me, my love! But here is bitterness and death to me in living: so we're not apart." – Michelangelo
"Joy and sorrow are inseparable. . . together they come and when one sits alone with you . . . remember that the other is asleep upon your bed." – Khalil Gibran
"For beauty is nothing but the beginning of terror which we are barely able to endure, and it amazes us so, because it serenely disdains to destroy us." – Rainer Maria Rilke
"You never know what worse luck your bad luck has saved you from." – Cormac McCarthy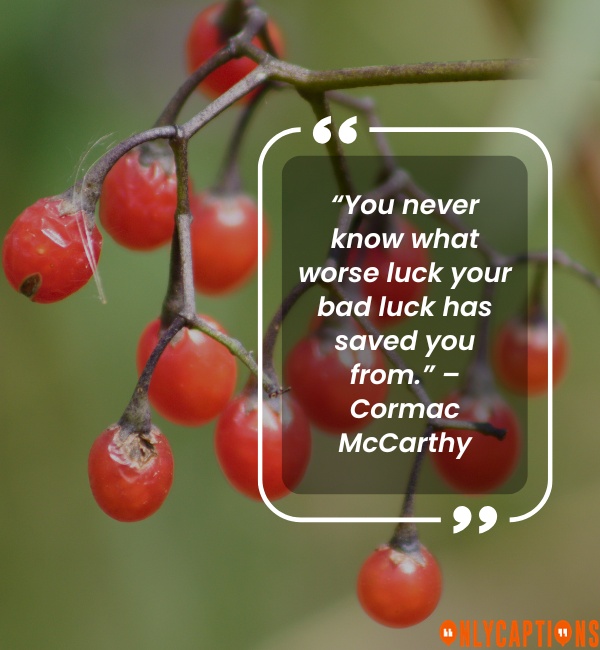 "Our wounds are often the openings into the best and most beautiful part of us." – David Richo
"The wound is the place where the Light enters you." – Rumi
"Tears are words the heart can't say." – Unknown
"When you come out of the storm, you won't be the same person who walked in. That's what the storm is all about." – Haruki Murakami
"Don't cry because it's over, smile because it happened." – Dr. Seuss
"Life is a blend of love and loss – but do not lose love for the grief of what you have lost." – Anonymous
"The greatest glory in living lies not in never falling, but in rising every time we fall." – Nelson Mandela
"There is a sacredness in tears. They are not the mark of weakness, but of power." – Washington Irving
"Sometimes when things are falling apart, they may actually be falling into place." – J. Lynn
"The soul would have no rainbow if the eyes had no tears." – Native American Proverb
"There's nothing like a little heartbreak to clear away the clutter and make room for what you've been praying for." – Mandy Hale
"The greatest tragedy in a person's life is the murder of their dreams." – Travis Berketa
"Sorrow prepares you for joy. It violently sweeps everything out of your house, so that new joy can find space to enter." – Rumi
"We must understand that sadness is an ocean, and sometimes we drown, while other days we are forced to swim." – R.M. Drake
"The heart's memory eliminates the bad and magnifies the good." – Gabriel Garcia Marquez
"With every ending comes a new beginning." – Unknown
"Pain has its own noble joy, when it starts a strong consciousness of life, from a stagnant one." – John Sterling
"Life is all about evolution. What looks like a mistake to others has been a milestone in my life." – A.P.J Abdul Kalam
"They say time heals every wound, but even time has its wounds." – Laura Chouette
"Time doesn't heal all wounds, only distance can lessen the sting of them." – Shannon L. Alder
"In the depth of winter, I finally learned that within me there lay an invincible summer." – Albert Camus
"Sadness flies away on the wings of time." – Jean de La Fontaine
"Life is a cycle, always in motion. If good times have moved on, so will times of trouble." – Indian Proverb
"Hope is important because it can make the present moment less difficult to bear. If we believe that tomorrow will be better, we can bear a hardship today." – Thich Nhat Hanh
"All things that have form eventually decay." – Masashi Kishimoto
"Even the darkest hour has only sixty minutes." – Morris Mandel
"Every moment of light and dark is a miracle." – Walt Whitman
"A thing is not necessarily true because a man dies for it." – Oscar Wilde
"Grief never ends, but it changes. It's a passage, not a place to stay. Grief is not a sign of weakness or a lack of faith. It is the price of love." – Unknown
"To appreciate the sun, you gotta know what rain is." – J Cole
"In the heart of every struggle lies an opportunity to grow." – Melchor Lim
"The real voyage of discovery consists not in seeking new landscapes, but in having new eyes." – Marcel Proust
"The very things that hold you down are going to lift you up." – Timothy Mouse, Dumbo
"The risk of love is loss, and the price of loss is grief. But the pain of grief is only a shadow when compared with the pain of never risking love." – Hilary Stanton Zunin
"It's so hard to forget pain, but it's even harder to remember sweetness. We have no scar to show for happiness. We learn so little from peace." – Chuck Palahniuk
"Life is a succession of lessons which must be lived to be understood." – Ralph Waldo Emerson
"Sorrow makes us all children again — destroys all differences of intellect. The wisest know nothing." – Ralph Waldo Emerson
"The walls we build around us to keep out the sadness also keep out the joy." – Jim Rohn
"Every adversity, every failure, every heartache carries with it the seed of an equal or greater benefit." – Napoleon Hill
"The most beautiful people we have known are those who have known defeat, known suffering, known struggle, known loss, and have found their way out of the depths." – Elisabeth Kübler-Ross
"Life is not about waiting for the storm to pass but learning to dance in the rain." – Vivian Greene
"In the end, it's not the years in your life that count. It's the life in your years." – Abraham Lincoln
"The pain of parting is nothing to the joy of meeting again." – Charles Dickens
"Life is a mixture of sunshine and rain, teardrops and laughter, pleasure, and pain. Just remember, there was never a cloud that the sun couldn't shine through." – Unknown
Life's intricate tapestry is woven with threads of joy and sorrow, creating a rich pattern of experiences that define our existence. "Quotes about bittersweet" capture the essence of this duality, reminding us that both joy and pain contribute to the depth of our human experience.
Embracing this balance not only helps us appreciate the highs but also gives meaning to the lows, making every moment a poignant chapter in our ever-evolving story.